Discover more from Molly Wood Media
Welcome to MWM: storytelling for the climate solutions ecosystem including newsletters, podcasts, startup advising, and consulting.
Over 6,000 subscribers
Daily decarb: rent your clothes!
My most sustainable personal finance choice is also the most fun. Cute new clothes all the time! What's not to love?
First, please don't miss this week's episode of the Everybody in the Pool podcast, featuring Farnoosh Torabi, the host of So Money, which is all about personal finance tips and strategies and dealing with money in your real, honest-to-goodness, messy life. (I'm also on her show this week, that episode is here!).
We talked about how Farnoosh is actually one of the many people who didn't think she had a climate-related career, but it turns out that, in her words, climate change is "already costing you money." That could be:
The price of groceries because crops are harder to grow in increasingly unpredictable weather;

The cost of replacing home furnishings (or an entire house) in a flood or other natural disaster;

Higher energy bills (especially in states where you may be forced to stick with coal, even though it's more expensive than renewables);

Higher health care costs (air pollution, which is a symptom of and a contributor to global warming, kills some 7 million people every year).

The cost of home insurance or mortgages in high-risk areas.
And on and on, actually. Farnoosh and a team of producers at editors at CNET did a series of stories in 2021, some of which are here, here, and here. She said she got interested in the topic in a way I suspect many people have or will: she experienced a climate disaster in the form of flooding, while her parents on the West Coast were at risk from fires and mudslides in 2020. All of that made her realize this is both a human story and, yes, a financial story. It's a great conversation, and I hope you'll listen and share!
Everybody in the Pool is a reader-supported publication. To keep these posts free for all to read, if you can afford it, I hope you'll consider becoming a paid subscriber. Thank you!
And, when the tables were turned and Farnoosh interviewed me, she said something that's really stuck with me. She said she sometimes feels like unless she's doing everything right in terms of being a climate-conscious consumer, she feels like a hypocrite, and like she can't even contribute to the climate conversation. I don't think this is an unusual viewpoint, and so I wanted to use this newsletter, once again, to reassure you that adopting any solution, anytime, is a place to start that can have real impact. And yes, of course, I hope that solution will be a gateway drug to more like it, because the more the better. But don't let the end goal be the enemy of the starting line. On the show, you'll hear about products and solutions you can adopt, but let's be even more tactical this week with A Place to Start that's fun and easy.
Wait, you're still buying new clothes?
Ok, that was rude. I'm not judging you (although if you're getting everything from Shein, then we do actually need to talk). I say I don't know why you're buying new clothes because renting clothes (as well as thrifting, frankly) is fun, cost-effective, makes you look on-point and stylish, and can put you in more expensive clothes than you actually afford.
On top of that, you're consuming less, meaning less new stuff needs to be created just for you, and you're probably keeping textiles out of the landfill because you're returning your clothes when you're done with them instead of throwing them away (which, I'm sorry to report, fully 70% of you are doing here in the US).
Personally, I use the Rent the Runway clothing subscription and I have for years—if you've listened to any podcast I've ever been on, you already know this, because I won't shut up about it. I pay $144 a month for 2 shipments per month, with 5 items in each. So, $144 per month for up to 10 separate clothing items. (I can keep items as long as I want, so I almost never get 10 per month, but that's the plan I'm on.)
Now. Yes, $144 per month sounds like a lot (I might downsize). Nevertheless, before we get to the climate math, let's do the math-math. This adds up to $1,728 per year, and at this exact moment, the value of the clothes that are in my closet for just this month is $1,651.
There's no universe in which I would pay my actual money for the $595 dress and the $248 blazer that I'm planning to wear next week at GreenFin in Boston, at my panel about private equity and its role in decarbonizing transitioning assets. (Fun. Hope to see you there.) But I'm going to look amazing and that's just two items out of the five.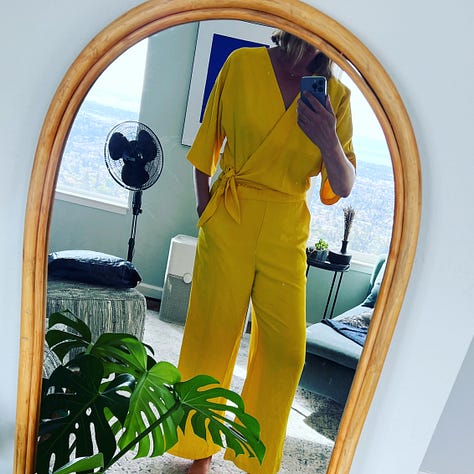 You don't have to do this every month, either. If you're like me, every time you have a conference or a speaking event or a wedding or a vacation or a party, you feel certain that you need new clothes. You might only wear those a few times, you might keep them for a year or less, and hopefully, you're donating them to Goodwill when you're done (shout-out, Goodwill!), but again, the majority of US consumers are not. And there's just no reason for it. So why not rent them!?
There are options other than RTR, too. Here's a handy little list of places. Many feature women's clothes; Taelor, Vince Unfold, and The Black Tux have men's and gender-neutral options. And someone recently pointed out to me that you could probably combine two subscriptions—let's say you did RTR at $89 a month and Nuuly at $79 a month, and you'd still come in under $2000 a year, or far less than a fairly standard professional wardrobe budget.
Ok, let's talk climate impact. I also mention this solution as a starting place because it is decidedly not perfect and it's even a little bit controversial. A couple of years ago, a survey out of Finland found that renting clothes is worse than recycling, re-using or even throwing away clothes, because of the emissions involved in delivering and returning clothes, and the potential for toxic dry-cleaning pollution.
Also, Rent the Runway bedevils me by wrapping all the clothes in plastic—although, they now ask me to return that plastic for recycling, or I can put it in my Ridwell bin where I know they've found a recycling partner to use it as feedstock (more on that in a future episode). Several fashion rental houses in the UK disputed these findings (obviously, yes), and Rent the Runway at least tries to quantify its environmental impact and buys offsets for its transportation-related emissions. I know, I know, offsets. But it's better than nothing.
In fact, this gets me back to what Farnoosh was saying about the perfect being the enemy of, well, anything. Yes, the clothes are delivered to you, and that's not ideal. But how many of you are ordering clothes online that would be delivered anyway? (Hint: lots.) RTR also notes that over the last decade, it's displaced 1.1 million new items that would otherwise have been manufactured. It's hard to account for a negative, but 6% to 10% of global emissions come from the production and transportation of new clothes, maybe more.
New clothes also keep petrochemicals in business. As this Bloomberg piece points out, "(m)ost clothing around the world is made with polyester, the synthetic fiber derived predominantly from petroleum." The piece also notes, not for nothing, that fully 95.2% of Shein's clothing contains new plastics. Some 85% of fibers made for clothing end up incinerated or in landfill. In the US, as I mentioned, 70 percent of clothing ends up in landfill, and once it's there, the chemicals break down and are released into the earth along with toxic dyes (and the less of that manufacturing we can do, the better, because it's literally turning rivers black, people).
So first of all, renting clothes can, in fact, help: the UK-based charity Wrap estimates if 10% of new clothing purchases were rented instead, it would save 160,000 tons of CO2 emissions in the UK alone. That's the equivalent of taking 35,000 cars off the road for a year, just in the UK.
Second, it's a starting point for consumer change. Earlier, I referred to adopting any climate solution as a gateway drug that leads to more adoption. I know and I will tell you all day long that the best thing you can do is not buy clothes in the first place. You don't need as many as you have. If you buy new clothes, buy them to last, try not to buy synthetic fabrics, don't buy fast fashion items—buy expensive stuff that's manufactured somewhere with rules.
But what happens once you start renting clothes, or at least what's happened to me, is the most valuable thing at all. I feel smug about it. I try to buy as few things as humanly possible, and I challenge myself not to buy anything new if I can possibly help it. I have reduced my clothing consumption to undergarments, shoes, and the occasional workout wear. Then I found myself trying not to buy anything new; I'm still on Facebook pretty much for the Marketplace and the Buy Nothing groups. I'm perusing Nextdoor whenever I need planters or simple furniture items. You bet I'm thrifting Goodwill.
The first step you take is the step you take toward a lifestyle. It doesn't have to be perfect. Just … start. And a drop becomes a flood.
See you next week.
Everybody in the Pool is a reader-supported publication. To help keep me in business and keep these posts free to read, please consider becoming a free or paid subscriber.