Discover more from Molly Wood Media
Welcome to MWM: storytelling for the climate solutions ecosystem including newsletters, podcasts, startup advising, and consulting.
Over 6,000 subscribers
Yes, you can start a climate company
I realized recently that, like the climate crisis itself, the idea of a "climate company" might be overwhelming some entrepreneurs. I have good news: we need everything.
First, I apologize for the long delay between newsletters! Did January happen? That can't be right. There's just a vague blur in the back of my mind where January supposedly occurred. Anyway, let's just say we started the year on Feb. 1. Right? Right. Ok, here we go, happy new year, yay, it's 2023, I'm so excited to get to work! I hope you are, too, because AI tells us we're super doomed much sooner than we thought we were, and my first reaction was, "oh crap. We have a lot of work to do!"
Now, normally I don't like to post things like this, because it can lead to paralyzing despair and anxiety, and people becoming overwhelmed by the sheer magnitude of the problem, and then maybe folks shut down and give up and are like, well, at least Dry January is over. (So you're saying January really happened? I feel like I would have remembered that.)
Thanks for reading Mollywood! Subscribe for free to receive new posts and support my work.
But since we need, as I am constantly and relentlessly saying, everybody in the pool to solve this problem, I am extending this edition of the newsletter specifically to entrepreneurs. I'm a little worried that this paralysis, this sense of a problem too overwhelming to tackle, a mountain without any obvious foothold, has extended to brilliant people who might want to found a company.
Here's an example: I was at an event the other day and had a conversation with a young man who was wondering aloud what kind of company a buddy of his should start, since so many VCs keep saying it's a great time to start a company. Sam Altman was speaking at the event, and told him to start an AI company (obviously). But after the event was over, I scampered right over and said, "actually, your friend should start a climate company!"
He said something like, you know, yeah, he'd love to, it's super cool, he's done some research into carbon capture, but it's so hard, it seems like it's really hard to figure out what to do. And I realized there could be a lot of people out there who are daunted by the idea that it has to be a frontier tech, silver-bullet climate solution.
IT DOES NOT. As I said in an earlier newsletter, climate solutions are like the planet itself: a complex ecosystem. Eventually, we're going to have to revamp EVERYTHING, from supply chain logistics to investing to accounting to shopping to where and how we grow food to textiles to consumer electronics to hiring.
The problem of measurement alone could spawn 1,000 startups. I cannot tell you how much stupid stuff we are doing that we don't even know we're doing because we haven't slapped sensors and software on those things. The opportunities in measurement and analysis are nearly infinite, and do not let anyone tell you that you're not tackling a big enough problem, or that you're a drop in a storm, or you're rearranging deck chairs.
Respectfully, I don't have time for anyone's problem porn. I'm spending 2023 ruthlessly focused on solutions, and there's not a single thing I'd kick out of bed for eating crackers right now. We need every idea, and we need everyone. Oh and hey, we have a whole cool free program for founders who have an idea but not an MVP and want to understand the basics of how to start a company. Founder.university Get in the damn pool!
Bits and bobs
Reading: Holy cow, you guys. I just finished a truly epic journey through The First Law trilogy by Joe Abercrombie. It took several months, to be clear, these are big beefy books that, I should warn you, are wildly violent, grim, upsetting, and incredibly entertaining. It's sort of a Game of Thrones vibe with a hefty sprinkle of magic. Riveting and shout-out to Ramanan for the recommendation! And thank goodness I'm done because I have a bunch of nonfiction about boards of directors and the cost of college to read next.
Watching: Speaking of Gary Oldman, I finally started Slow Horses on Apple TV and it is so great! It's funny and brutal and scratches the spy itch with a side of British haplessness that's an absolute delight. I can already tell I'm going to do the thing where I end up reading all the books and ruining future seasons.
Cooking: One of my austerity measures in 2023 (hey, everyone's doing it) is cutting back on DoorDash and meal kit delivery. I really enjoyed having Hello Fresh in the fridge, but it got too expensive, it feels horrifically wasteful, and I got kind of tired of the menu. And over the holidays, I bought an air fryer, and a little magazine at the Whole Foods checkout line that has actually changed my cooking game to an almost hilarious degree! I'm driving my friends crazy posting about it, but so far I've made homemade falafel, empanadas, fried chicken (obviously), spinach and feta egg souffle, blistered shishito peppers, shrimp po' boys, and pork chiles rellenos. It's amazing. Also, I'm exhausted. All this cooking is killing me. I want DoorDash back.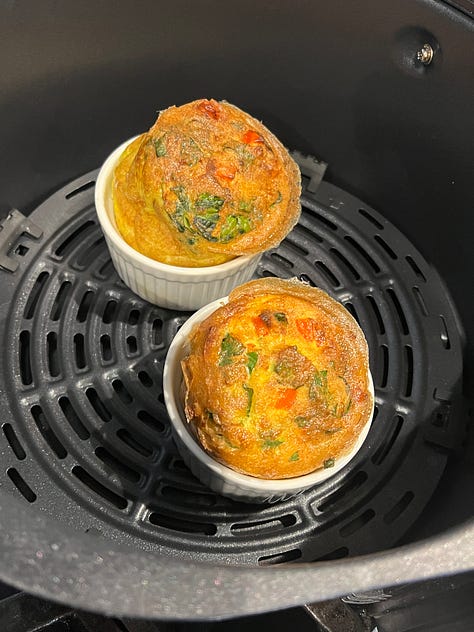 Thanks for reading Mollywood! Subscribe for free to receive new posts and support my work.